Creating an attractive, eye-catching email is the bedrock of any email campaign.
Despite the increasing focus on harnessing the power of customer data to segment and personalize campaigns, if the emails you send customers look shoddy or include broken links and images that don't display properly, you won't win any business.
This side-by-side comparison of Mailchimp vs Constant Contact features two of the best email marketing software providers that have worked hard on their email editors to make sure businesses can send out emails that engage customers, boosting open and click rates to drive revenue.
---
Mailchimp vs. Constant Contact: An Overview
Before we dive into our comparison of these email marketing solutions, let's examine who these tools were created for.
Who is Mailchimp for?
Mailchimp is for everyone, whether you've never sent an email before, or you're a veteran email marketer.
It offers a speedy setup process, personalized advice and explanations, and sleek and modern user interface, all of which combine to make it a market-leading solution.
It is ideal for creating both simple and complex campaigns, and its detailed analytics mean you can optimize the performance of your email campaigns to drive revenue.
Who is Constant Contact for?
As a Mailchimp alternative, Constant Contact is an easy-to-use solution suitable for email marketers with absolutely no experience right up to seasoned pros.
Its personalized setup process means that you can quickly access the features that are most relevant to your business.
Its pricing plans let it down, as it's more expensive compared to its competitors in the market and the cost is prohibitive to small businesses with limited budgets.
---
Mailchimp vs. Constant Contact: Features
Both Mailchimp and Constant Contact are almost bursting at the seams with features, although Constant Contact needs to up its game when it comes to creating customer segments.
What Mailchimp offers
Mailchimp makes the email creation process straightforward, allowing you to start your emails with its drag-and-drop editor and raft of templates.
These templates are targeted at different types of campaigns, such as announcements and news, follow-up emails, and storytelling email newsletters.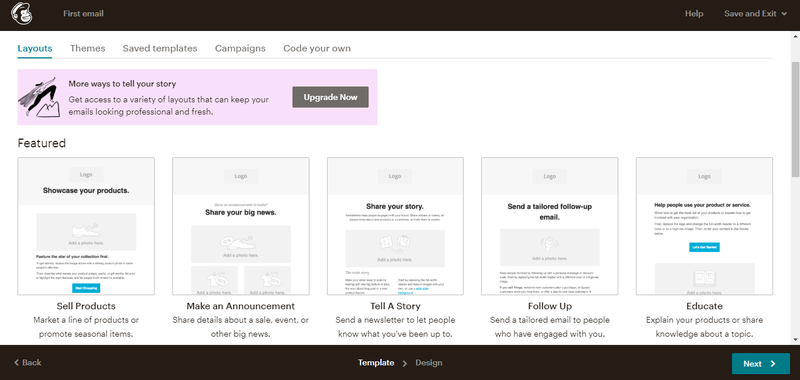 Two of the most unique features it includes in terms of email creation are its commenting section, which collates comments from multiple users within the campaign, and its A/B testing functionality, which lets you set a specific goal for each campaign and tailor the "winning" criteria accordingly.
It's important to note that the free plan only includes basic templates.
Mailchimp's segment builder is another stand-out feature, as it leverages a machine learning model to create segments automatically based on previous customer behavior.
These segments are also dynamic, which means that instead of you adding and removing customers manually, Mailchimp does it automatically based on whether they still meet the specified conditions.
Mailchimp helps you quickly build email drip campaigns, with its range of templates for different purposes. You can create automated drip campaigns to send out a sequence of emails when a customer takes a certain action at set intervals. These templates include:
Newsletter sign-up
Win back campaigns
Transactional emails, including order notifications
What Constant Contact offers
Just like Mailchimp, Constant Contact provides features to help you create stand-out emails. For example, you can tailor an email to your brand's colors and styles simply by entering the URL of your website.
Constant Contact also comes with built-in templates.
You can use Constant Contact's drag-and-drop email editor to customize templates to your needs by inserting images, videos, and social share options; adding RSVPs, polls, and donation options; and editing individual blocks of content.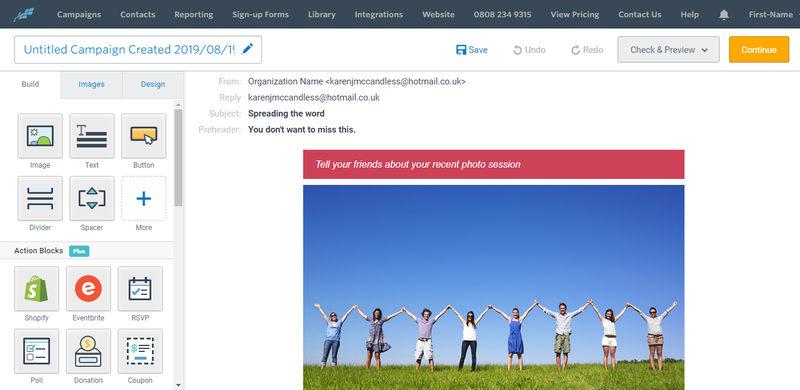 With its dynamic content functionality, you can choose to display certain blocks of content to certain customers depending on factors such as age, location, purchase history, or even an email segment.
Constant Contact has strong contact management functionality, which is particularly useful when it comes to growing your email list.
It suggests different actions to take to build up your list, including:
Building a sign-up page for your website to collect more email addresses
Adding an option where users can send a text message to join your email marketing list
Connecting additional apps (including Facebook)
Constant Contact allows you to create segments using basic conditions, such as opens and clicks, and not transactional data such as last purchase. If you connect Constant Contact with Shopify, you can also use data from your online store to create segments.
For example, you can create segments for people who have only made one purchase, or for customers who haven't purchased in six months.
Results
Segmentation is such an important feature when it comes to creating relevant content for your subscribers, from the beginning to ending of your emails. That's why Mailchimp is the victor in this round.
---
Mailchimp vs. Constant Contact: Support
Being able to easily contact your email marketing software provider when you have a problem is crucial, whether it's to report a bug, ask for help using a feature, or to upgrade or downgrade.
It's also important to have a wide range of self-help options available for when you want to sort out the problem yourself.
What Mailchimp offers
Support for customers on Mailchimp's free plans is limited to self-help knowledge base articles. The articles are very detailed, with step-by-step guides in different formats, including videos, screenshots, and links to other relevant information.
It's very difficult to find a way to contact Mailchimp customer service — even to report a bug — if you're on the free plan.
Mailchimp also puts links to related knowledge base articles based on the feature you're currently using at the bottom of each page. For example, if you start using the A/B testing feature, it displays an article explaining more about how to use this functionality.
If you pay for Mailchimp, you get 24/7 email and live chat support. Only people who subscribe to the top-tier plan get phone support.
What Constant Contact offers
While Constant Contact does provide email and phone support, and it's easy to access from the "Contact Us" drop down menu, it's not available on a 24/7 basis. There is a live chat option, but you have to dig deep into their support pages to find it.
On the plus side, you can tweet their support team (although it's unclear what the response times are) and they have a community that provides peer-to-peer support, as well as a comprehensive knowledge base.
Results
Neither Mailchimp nor Constant Contact excel in terms of support options, but Mailchimp takes the win as it provides 24/7 support via email and live chat, while Constant Contact only provides support during a certain time period.
---
Mailchimp vs. Constant Contact: Ease of use
If you're using email marketing software for the first time, it can seem overwhelming and daunting.
You probably wonder what A/B testing means, or how segmentation helps improve your campaigns. That's why it's so important to choose a solution that provides help every step of the way.
What Mailchimp offers
Mailchimp makes creating email campaigns super easy by providing an overview of all the steps in one dashboard while providing a checklist-style user interface to help you understand the steps you need to take and their importance.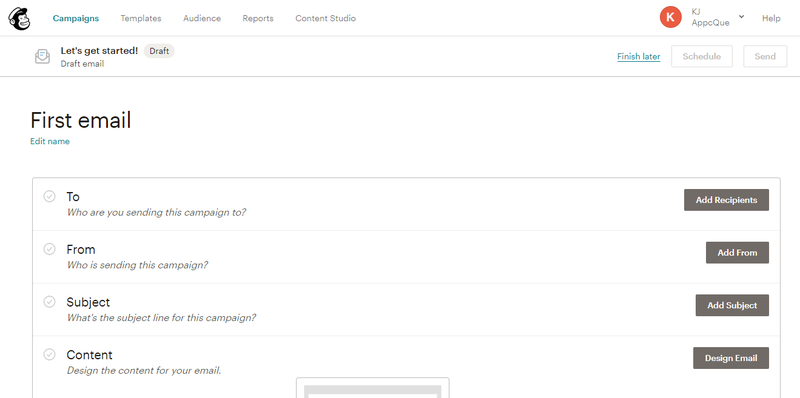 Mailchimp also uses in-app messaging to good effect, with different help messages appearing when you are using certain features.
These messages explain how you should use the feature, as well as its benefits. For example, it explains that segmented campaigns see an average 14% increase in click rate.
What Constant Contact offers
Constant Contact personalizes and tailors the main dashboard depending on how much experience you have with email marketing and whether you have used the software before.
It asks certain questions the first time you log in to the solution, and displays different content according to the answers.
For less experienced marketers, Constant Contact provides a streamlined and simple main dashboard with six key actions you can take, along with explanations of each of these tasks.
These provide good starting points when it comes to setting up campaigns for the first time, while guiding you towards the main actions you need to take.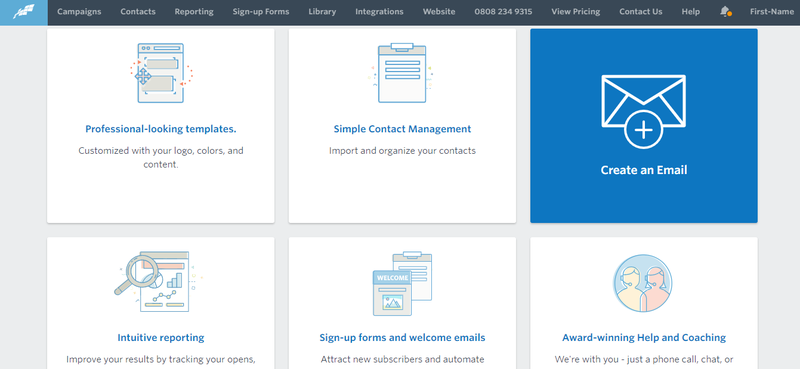 Results
This was a close one, as both solutions provide excellent, well thought out user experiences, but Mailchimp's in-app tips and explanations offer step-by-step guidance, no matter what you're doing.
---
Mailchimp vs. Constant Contact: Pricing
It's important to make a list of must-have versus nice-to-have features so you can pick the best email marketing software within your budget.
There's no point going over your budget to get a more expensive solution just because it has more functionality if it includes features you'll never use or don't need.
What Mailchimp offers
Mailchimp offers a range of plans, including one free and three paid.
Free plan: yes, but with a limit of 10,000 emails a month
Free trial: no
Discount: not for private sector organizations, but nonprofits and charities receive a 15% discount
Starting price: free, but the least expensive paid plan starts at $9.99 for 500 contacts
For small businesses and solopreneurs, Mailchimp provides excellent value for the money. It offers a free plan and its least expensive pricing plan starts at $9.99 for 500 contacts.
This makes Mailchimp pricing an affordable option for small businesses. It also has three paid plans, which means you can upgrade as your business grows.
What Constant Contact offers
Constant Contact has less offerings, at two paid tiers.
Free plan: no
Free trial: yes, for 60 days
Discount: there is a 15% discount if you pay for 6 months or a year at once, while nonprofits and charities receive up to a 30% discount
Starting price: $20 for up to 500 contacts
Constant Contact pricing is expensive. The least expensive option is $20 for up to 500 contacts. The price then goes up to $45 a month for 501–2,500 contacts.
This price includes social media marketing tools, such as Google, Facebook, and Instagram ads, but if you're a small business looking for an email marketing solution, the price is prohibitive.
There are also only two pricing plans — Email and Email Plus — which gives flexibility for different business sizes and budgets.
Results
If we look at pricing from an email marketing functionality perspective then Mailchimp offers better value for money.
Constant Contact includes a whole raft of social media marketing and marketing automation features, but its cost puts it out of reach for most small businesses.
---
Mailchimp vs. Constant Contact: Integration with other software
As the saying goes, no man is an island, and no software works in isolation.
For your business to be productive and efficient, you need all your different business software to work together to ensure a seamless flow of information.
What Mailchimp offers
As you'd expect from a software of Mailchimp's standing, it offers a lot of native integrations. These include:
Mailchimp offers an API to help you build connections to software not on the list of native integrations, but it doesn't offer you any support when it comes to building these integrations, which may pose a problem for businesses with limited IT resources.
Before subscribing to a paid price plan, it's a good idea to check if Mailchimp integrates with the software you are already running in your business.
What Constant Contact offers
Constant Contact has made sure it can integrate with almost every popular solution you can think of. Popular integrations include:
Eventbrite
Facebook
Outlook
BigCommerce
One thing that makes Constant Contact standout is its app marketplace. This takes integrations one step further, by providing native apps that can be plugged directly into this solution. These add-ons include:
Constant Contact for Gmail
Constant Contact's List Builder for iOS
Constant Contact for Office 365
Results
Constant Contact's app marketplace means that you can get your most important business apps to play very nicely together with specially designed plug-ins. It also has a seemingly endless list of integrations.
---
How They Compare: Mailchimp vs. Constant Contact
| Feature | Mailchimp | Constant Contact |
| --- | --- | --- |
| Free plan | | |
| Free trial | | |
| Advanced segmentation | | |
| App marketplace | | |
| Live chat | Only on paid plans | Limited |
| Community help portal | | |
| Personalized user interface | | |
| Dynamic content | | |
| Personalized in-app tips | | |
| A/B testing | | |
---
Mailchimp triumphs in close-run contest
While Mailchimp won every round apart from integrations, these two email platforms were very closely matched. Constant Contact provides much more than email marketing functionality, and its price point reflects that, which means it isn't an option for smaller businesses.
It does a good job of offering a great user experience considering all the features it packs in, but Mailchimp combines functionality with usability to win the day.